Application
The E21 nc press brake is brake is primarily used for the bending and processing of stainless steel, iron, copper and aluminum, and features a high production efficiency and bending accuracy. The E21 nc press brake uses upper and lower molds in different shapes, so that metal can be bent into various shapes. Through the use of a single sliding stroke, the material is quickly bent into shape, and the workpieces with complicated shapes can be made by multiple bending. The E21 nc press brake can be widely used in the aviation industry, light industry, metallurgical industry, chemical industry, architecture industry, shipbuilding industry, auto industry, power industry, electric appliance industry and decoration industry.
Parameters
| | | | | | | | | | | | | | | | | | |
| --- | --- | --- | --- | --- | --- | --- | --- | --- | --- | --- | --- | --- | --- | --- | --- | --- | --- |
| Model | Bending Pressure (Kn) | Bending Length (mm) | Column Distance (mm) | Throat Depth (mm) | Slider Stroke (mm) | Max. Opening Height (mm) | Y -axis Downward Speed (No load) (mm / sec) | Y Caxis Back Stroke Speed (mm / sec) | Bending Angle Precision (°) | X-axis Max Distance (mm) | Workpiece Linearity (mm/m) | Bankgauge Accuracy (mm/m) | Sliding Front Supporting Arms (PCS) | Back Stopper (PCS) | Main Motor (Kw) | L*W*H(mm) | Weight (Kg) |
| 30T/1600 | 300 | 1600 | 950 | 230 | 100 | 320 | 80 | 70 | <±40 | 300 | 0.5 | 0.05 | 2 | 2 | 3 | 1S00*1200*1620 | 2000 |
Equipment components
Special CNC system for E21 E21 nc press brake
Frequency changer controls the back gauge
The X axis and Y axis driving automatic control
HIWIN ball screws & polished rod with 0.05 mm accuracy.
America SUNNY internal gear pump with high-performance and low noise
Germany EMB tubing connector
Germany Busak Shamban sealing element
Germany EMB tubing connector
Germany Busak Shamban sealing element
France Schneider Electrics
Germany Siemens main motor
Germany Bosch-Rexroth hydraulic/America Forster system
Support arm for front supporter
Hydraulic & electrical overload protection
Features
1. The left vertical plate, right vertical plate, workbench and material pressing board are welded into an integrated structure, and use a tempering process to eliminate internal stress after welding. This results in the integrated structure having a high hardness and stability.
2. The frame and slider of the servo drive CNC bending press brake use a finite element analysis software in order to ensure machine reliability.

3. Hydraulic transmission: stable and reliable
4. Germany Rexroth or America First hydraulic system: high synchronization accuracy
5. The distance of the back gauge and slider stroke are controlled using the CNC system.

6. The cylinder is produced through casting, grinding and hard chrome plating processes, and is equipped with a sealing ring to eliminate oil leakages.

7. The hydraulic system uses an oil circuit integrated hydraulic system, and decreases the need for pipe installation.
8. The servo drive CNC bending press brake uses three-phase system power (380V) to supply the power, the control-circuit voltage (220V) is supported by a control transformer and the direct current power (+24V) is needed by an execution circuit electromagnetic valve, which is supported by the transformer and silicon rectifier.
Product details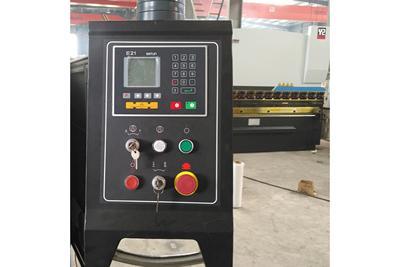 Estun E21 CNC system
Liquid display screen with high definition; Programming is convenient
The X axis and Y axis are intelligently located, and can be manually adjusted based on customer needs
Setting the function of dwell time and unloading delay is easy
The machine has one key backup and recovery functions
Supporting the multi-step program, and the complicated product can be finished in just one process
CE certified
---
The electrical system uses primarily Schneider products, and is equipped with a high quality dust protection electrical cabinet, thus ensuring the quality of the electrical system.
---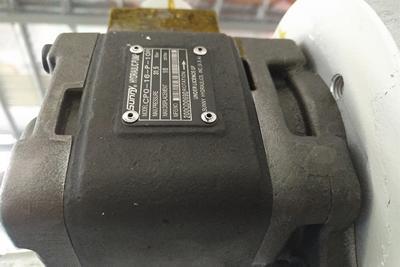 America SUNNY internal gear pump with long use age, good oil absorption and high performance.
---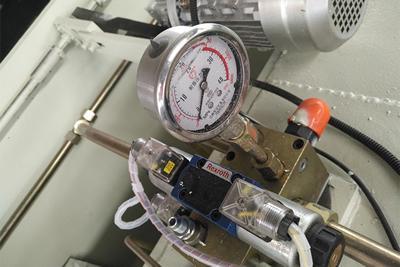 Germany Rexroth or America First hydraulic system; Compact structure; High performance.
---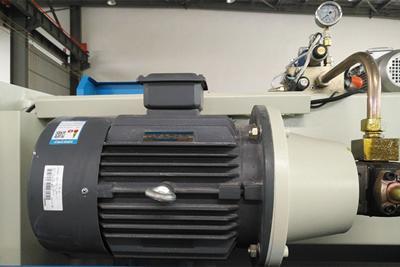 By using the Siemens electric machine, the service life of the electric bending press brake is increased, as well as decreases the noise levels of operation.
---
Back gauge (x)
Large lead ball screws transmission; High accuracy, fast speed and good stability
---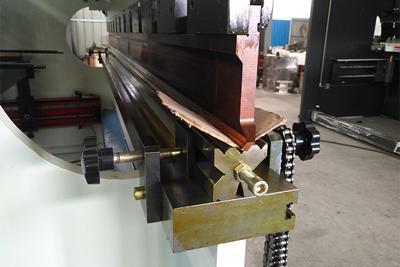 Mold
A set of standard molds makes mold change easy
The integrated quenching technique features a high hardness and grinding resistance
The mold can be designed according to client requirements
---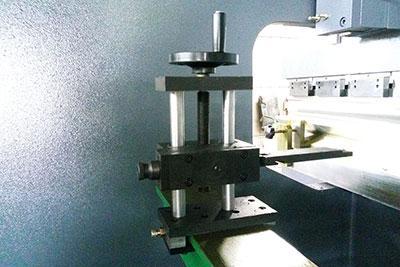 Manual adjustment backgauge finger block
Jiashida is a sheet metal fabrication equipment manufacturer and supplier, offering all kinds of sheet metal metalwork machinery like hydraulic shear, press brake, punch press, plate roll bender and sheet metal shears, metal benders. We have well trained and experienced team and fully equipped machining equipment to guarantee that we offer good quality metalworking machines.
Index
sheet metal bending equipment, sheet metal press brake, sheet metal fabrication